Overview & Process
The client wanted an image-centric interface using familiar elements and interactions - but also one that was visually distinct from existing social platforms. We didn't want to waste time reinventing the wheel, so to speak.
Our Challenges
Bootstrapped Startup Needs Quick Launch
Our client wanted to launch simultaneously on iOS and Android. We also needed to be mindful of their budget and leave room for updates and improvements after launch.
Consolidate Frontend Code
We employed React Native so we could use one codebase for both iOS & Android instead of building two separate frontends
Let Design Drive
Pedal is a visual-first product that allows the user generated content to live within a branded interface
Long Term Relationship
We have continued to support Pedal for 4+ years, keeping up as technology advances and making sure the code is current
Our Solutions
A Distinct Experience
We dove straight into designing high-fidelity screens, since most of the app's UX structure would be similar to existing apps.
Attention Grabbing Visuals
Our team worked to give visual movement to the interface by using slanted lines instead of right angles, while drawing inspiration from stock photos of both classic cars and modern automotive masterpieces.
Bringing Our Client's Vision to Life
We used car and driving-related iconography along with bright, eye popping colors and an in-app photo and video camera. With the users in mind, we created the ability to "rev" posts - a function that gives users the ability to post three levels of positive feedback: tap once for yellow, twice for orange, and three times for red.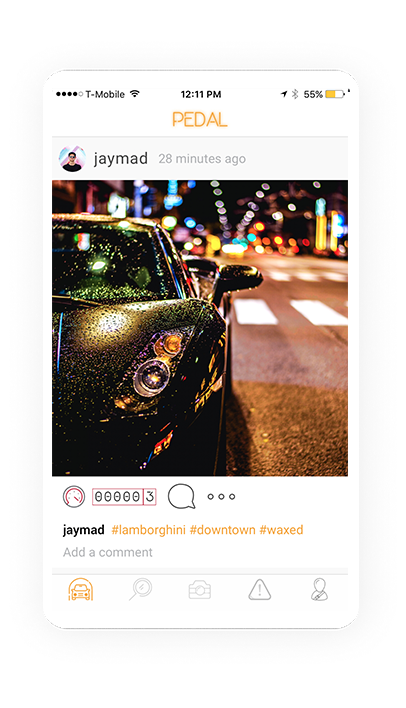 Push Social Engagement
For the Discover portion of the app, we displayed some hashtags from the posts, to encourage users to browse makes, models, or events within the app - ultimately creating a one-of-a-kind experience for the users. We also made it easy to send users push notifications about local events for car enthusiasts.
Multiplatform Availability
We were excited for the opportunity to leverage React's flexibility during its early days (2016). We used one codebase for most of the app, and then branched off into native code for features such as the device camera functionality.
The outcome
Full Throttle
Since launch, Pedal has been featured on Mark Greene's Cars Yeah podcast and in articles on Must Tech News and Mark Cuban's Three Commas.
Read More
Let's build something great.
Together, we can assemble and execute a plan to hit your key objectives with a software product that looks, feels, and is a top-of-the-line technology experience.
Get Started