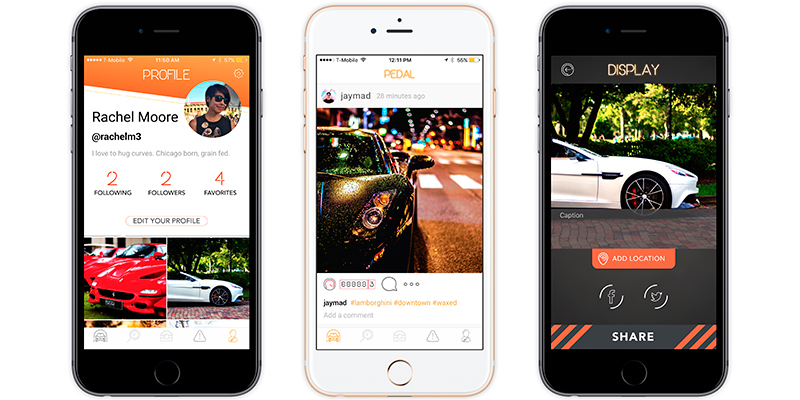 Pedal was born from an automotive enthusiast who envisioned a social media platform focusing solely on all things auto-related. The client wanted an image-centric interface using familiar elements and interactions - but also one that was visually distinct from existing social platforms.
We dove into designing high-fidelity screens, since most of the app's UX structure would be similar to existing apps. Our team worked to give visual movement to the interface by using slanted lines instead of right angles, while focusing heavily in styling stock photos of both classic cars and modern automotive masterpieces.
We helped bring the client's vision to life by designing the app to use car and driving-related iconography along with bright, eye popping colors and an in-app photo and video camera. With the users in mind, we created "rev" posts - a function that gives users the ability to post three levels of positive feedback: tap once for yellow, twice for orange, and three times for red.
For the Discover portion of the app, we displayed some hashtags from the posts, to encourage users to browse makes, models, or events within the app - ultimately creating a one-of-a-kind experience for the users.
Our client hoped to launch on iOS and Android simultaneously, so our team went to work with the React Native programming language, which allowed us to use the same code base for the majority of the app.
Since launch, Pedal has been featured on Mark Greene's Cars Yeah podcast and in articles on Must Tech News and Mark Cuban's Three Commas.